Quality Steel Forged Saddle Caps
Saddle caps have changed the game for pipe fence contractors! This new product, that we released in early 2016, has proven to be a much quicker and more efficient way to build a pipe fence.  This product has become to pipe fence contractors, the most logical way to saddle posts or horizontal pipe rail for fence.  No more cutting torch!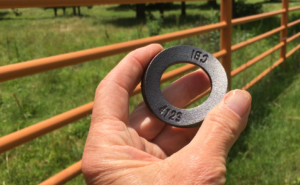 We acquired the saddle cap company in July of 2016 and by the end of the year we had applied for a U.S. patent. We purchased this product with only 5 sizes available. As of today we have increased that to 11 sizes, with plans to add even more.
Over the past year we have continually made the saddle cap product better for our customers. It first, was made of weldable steel cast iron. To help keep cost down for our customers, we sought to make it lighter for shipping rates. We added a hole to the middle, made the wings smaller, and changed the manufacturing process from casting to forging.  All of this has decreased the weight by 60%. We have designed a high quality, light, and weldable product for you! We have already sold over 100,000 saddle caps of all sizes!
We are so confident about these saddle caps, that we have made it company policy to give a complete refund if you are unhappy with them in any way (must be in the same condition as when purchased).  Whether you have them stocked in your store or have purchased them independently, we will do everything to ensure you are 100% satisfied.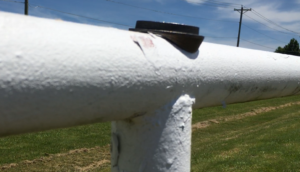 We currently have saddle cap inventories in Moore OK , Guthrie OK and soon in Kansas City, KS so we can get you your product quickly. Please contact us if you would like a sample mailed to you.
Available Saddle Cap Sizes
| Saddle to Post | Part # |
| --- | --- |
| 1 5/8″ to 2 3/8″ | 1523 |
| 1 5/8″ to 2 7/8″ | 1527 |
| 1 7/8″ to 2 3/8″ | 1723 |
| 1 7/8″ to 2 7/8″ | 1727 |
| 2 3/8″ to 2 3/8″ | 2323 |
| 2 3/8″ to 2 7/8″ | 2327 |
| 2 7/8″ to 2 7/8″ | 2727 |
| 2 3/8″ to 4 1/2″ | 2341 |
| 2 7/8″ to 4 1/2″ | 2741 |
| 3 1/2″ to 2 3/8″ | 3123 |
| 4 1/2″ to 2 3/8″ | 4123 |