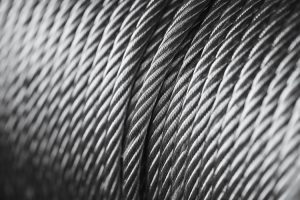 At CBI Pipe & Supply we offer a wide array of wire rope options to meet your specific needs. This material is essentially steel cable used for several purposes including lifting, pulling, winching and fencing. We also offer customization options to ensure the wire rope meets your precise specifications and needs.
When you contact us, we can discuss your particular needs to ensure you purchase the wire rope product that best suits them. We don't try to sell our customers the most expensive product available just to make a profit. Our team is dedicated to helping you find a viable solution that provides the solution and results you need. We can help you find the type of steel thickness that is needed and choose from new and used options, based on your budget.
Wire Rope Specifics:
Lifting: We offer wire rope solutions for overhead crane operation, as well as solutions for the oilfield, electrical, roofing and heating and air industries.
Pulling: We offer wire rope solutions for pulling conductor or guide wire along telephone poles for power companies.
Winching: We offer wire rope solutions for applications such as towing and hauling heavy equipment.
Fencing: Various options and solutions for railing for livestock or perimeter fencing.
At CBI Pipe & Supply we sell shot line, sand line, stainless steel wire and many other items. We also have an in-house press, which allows us to "rig" wire rope for specific applications, for example hooks or thimble eyes.
Each of the wire rope solutions we offer can be customized to meet your specific need. Our team will work with you to ensure you get the product needed at a price you can afford. Contact us today to learn more about the wire rope products we offer.